Release of the noAim Project Viewer! (Public Todo list)
Hello new player! Nice that you visited us.
Unfortunately, you only have limited access rights and you cannot see all of the content on this page. Please log in or register to be able to use all the functions on our site.

Hello noAim Community!
We would like to present you our new Project Viewer made by Gixta.
The Project Viewer is a big addition for the noAim Page, because it gives all our Developers the opportunity to list their to-do list's from now on public. (some may still be hidden)
A public to-do list gives the Community the chance to view old projects and new projects. You are able to view changes, addtions, bug fixes, tasks that being tested and be able to post comments to each of these tasks. As soon as project has all tasks complete it will be released to public/on the servers. The Project Viewer also has full Multilanguage support for English and German. (some tasks may not be translated)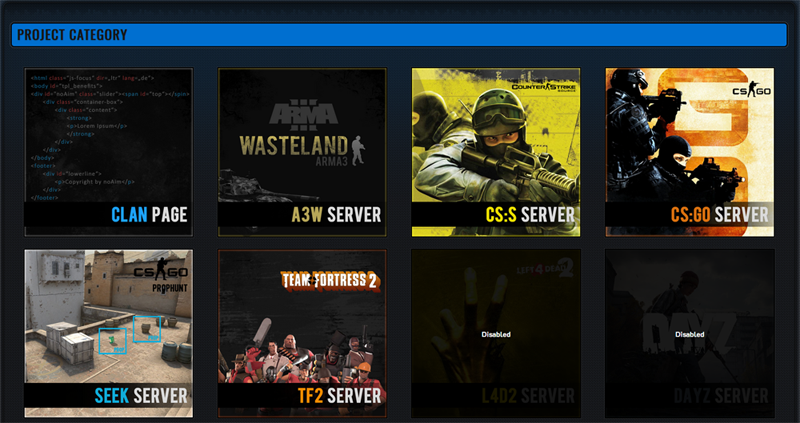 We have added categories such as:
Clan Page > Arma 3 Banlist, Project Viewer, Arma 3 Wasteland Statistic
Arma 3 Server > A3 Wasteland v1.5.3 & v1.5.4
Counter-Strike: Source Server - Schlachthof D2
Counter-Strike: Global Offensive Server - Jail, Rats, Poolparty
Seek Server: CSGO Seek, CSGO Seek Maps
TF2: MVM
DayZ, L4D2 and Rust are still hidden.

A project overview: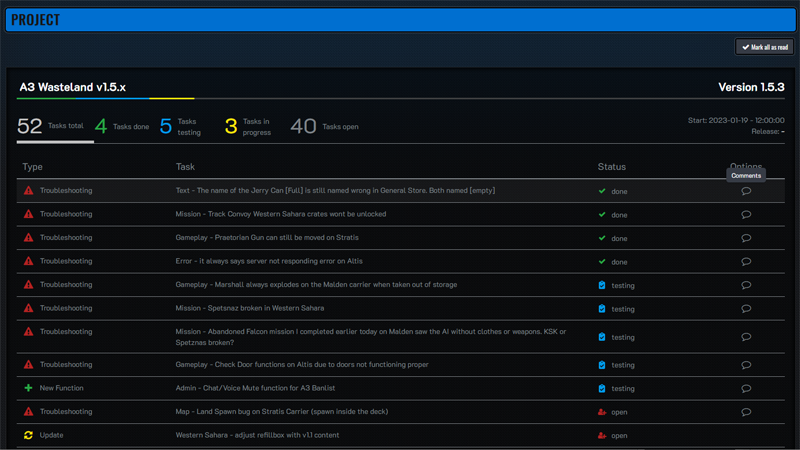 You may be able to view new projects of servers which haven't been released to public yet. Such projects need some more time and community support (comments) for example suggestions and feedback.
Our Devs also gather suggestions and bugs from our Discord and Forum and add these tasks to their to-do lists.
If a project has almost all tasks done, the dev may be able to move unfinished tasks to the next version.
Press here or on the main menu at the top "Projects" and choose the categorie which interest you.
If we are missing tasks in our projects, (if you got any suggestions) visit our suggestion/feedback forum. (post us all bugs you find, also tell us your ideas)